New carpet flooring can add beauty and style to any interior space. Whether you're considering durable wall-to-wall carpeting or a charming hardwood floor, the perfect type of flooring can enhance the rest of your room with ease. However, we know that choosing from the vast array of flooring types on the market can be a daunting task, especially when you're considering everyday use frequented by pet accidents and the little one's spills.
Here at Carpet One Floor & Home, our flooring experts can guide you in the right direction to find the best carpet for you while meeting the needs of your personal interior design scheme and lifestyle.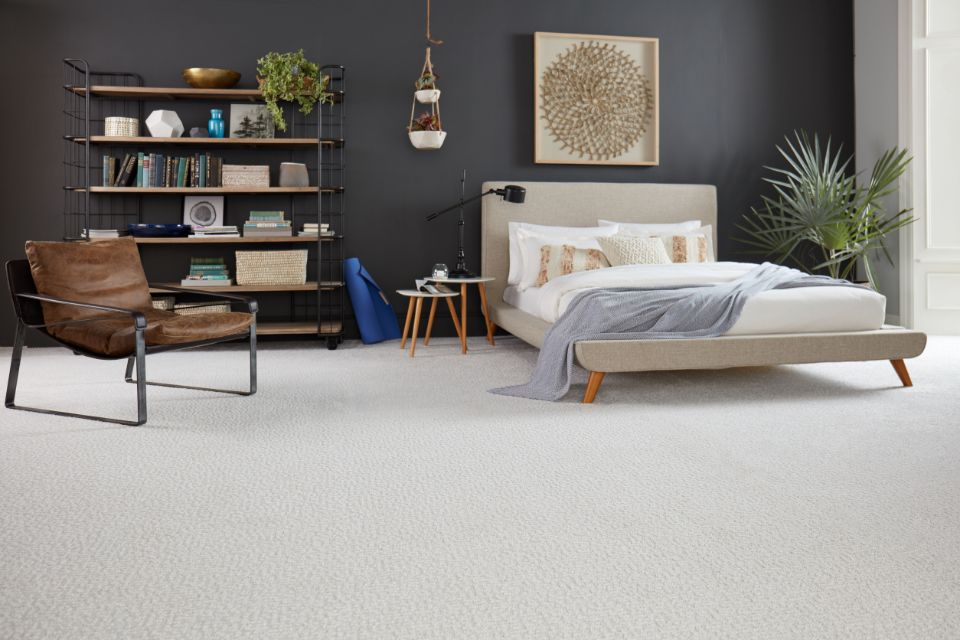 White Carpet by Carpet One Floor & Home
Durable Flooring Options: Carpet Fiber
Choosing the most beautiful and durable, high-quality carpets starts with the type of carpet that is best for your space. Part of what determines which durable fibers are best for your home is its specific make, and this includes understanding the differences between the pile carpet and main fibers, as well as the texture of a specific carpet.
There are four common fibers:
Nylon

Polyester

Polypropylene

Wool
Here's a closer look at each fiber type and how these types of carpets can benefit your home!
Nylon Carpet for Floors
Nylon is a common carpet for the home that is incredibly durable and versatile, which makes nylon carpet a great fiber choice for many areas of the home.
Some benefits of nylon include:
Durability: Excellent resilience to fading and stains, so it's able to keep its appearance for longer than other options.

Soft texture: Nylon carpets are also soft to the touch, and some are even engineered for increased softness.

Stain Resistant: Most nylon carpets are treated to be spill and stain resistant.
While nylon is an excellent choice for many spaces, it's also important to keep in mind that there are a variety of quality nylon choices, so be sure to do your research when looking for the perfect nylon carpet in your home!
Beige Patterned Texture Carpet by Carpet One Floor & Home
Polyester Carpet for Floors
Polyester carpet fibers are some of the most increasingly popular types of carpet available today. Polyester carpeting is known for its durability and price point, but also for its natural stain resistance. While polyester carpets are not as resilient as nylon, in some cases, it's still a great choice for homes looking for both durable and beautiful carpets.
Did you know? Unlike nylon, polyester is naturally stain-resistant, and it's also engineered to repel liquids from seeping below its surface, so it keeps your space clean with ease! For this reason, polyester is a high quality carpet option for most high-traffic living spaces, including bedrooms, living rooms, and hallways.
White Textured Carpet by Carpet One Floor & Home
Polypropylene Carpet for Floors
Polypropylene carpet, also known as olefin, is a synthetic carpet fiber that offers unique characteristics. It is known for its wool-like appearance and is most often used to create Berber carpets. While polypropylene carpet is a cost-friendly choice, it's not necessarily the most durable.
When purchasing this carpet type, keep in mind:
Unlike nylon, polypropylene does not bounce back as easily. For this reason, polypropylene carpeting works best in spaces like offices and low-traffic areas.

Some Berber carpets with low piles can offer moderate durability.

When it comes to stain resistance, polypropylene carpet performs well.
Wool Carpet for Floors
For a truly natural fiber option, wool carpet offers many of the same features as man-made fibers, making it a popular choice. Wool carpeting is a luxurious statement piece that is meant to last, and it is an investment. For this reason, we advise wool carpeting for low-traffic areas, including guest rooms, bedrooms, and office spaces.
Benefits of wool carpeting:
One of the many features of wool carpet is that it is hypoallergenic, so it's perfect for those who experience allergies.

While wool is not as durable as nylon, it is flame and dirt-resistant.

In many ways, wool carpet is a great choice for a variety of styles.
What Type of Carpet is the Most Durable?
Not all carpets are created equal, so if you're looking for the absolute most durable carpet, nylon carpet is generally considered to be the top choice. Nylon is known for its exceptional resilience and resistance to wear and staining. It can withstand heavy traffic and maintain its appearance for an extended period when properly cared for, making it ranked high the best carpet to buy.
Durable Flooring Options: Engineered Wood and Solid Hardwood Floors
Wood flooring has long been cherished for its timeless beauty and exceptional durability. Its enduring popularity is attributed to the unique combination of natural strength to withstand wear and tear and the versatility that wood possesses.
When choosing wood flooring, one of the key considerations is its durability, as it directly impacts the longevity and resilience of your investment. Understanding why wood flooring is inherently durable and how to select the most robust options ensures that your floors not only stand the test of time but also continue to grace your home with elegance and charm for years to come.
Engineered Wood Flooring
Engineered wood flooring is an excellent choice for those looking for long-lasting flooring because its layered construction makes it more resistant to warping and moisture damage, similar to solid wood. This stability makes it a great pick for those seeking long-lasting flooring that can withstand heavy use, fluctuations in humidity, and high-traffic areas in their homes.
Benefits of engineered wood flooring:
It offers durability and stability, making it suitable for high-traffic areas in the home.

It's available in a wide range of wood species, finished, and styles to suit different aesthetics.

It's pretty low maintenance compared to other flooring types.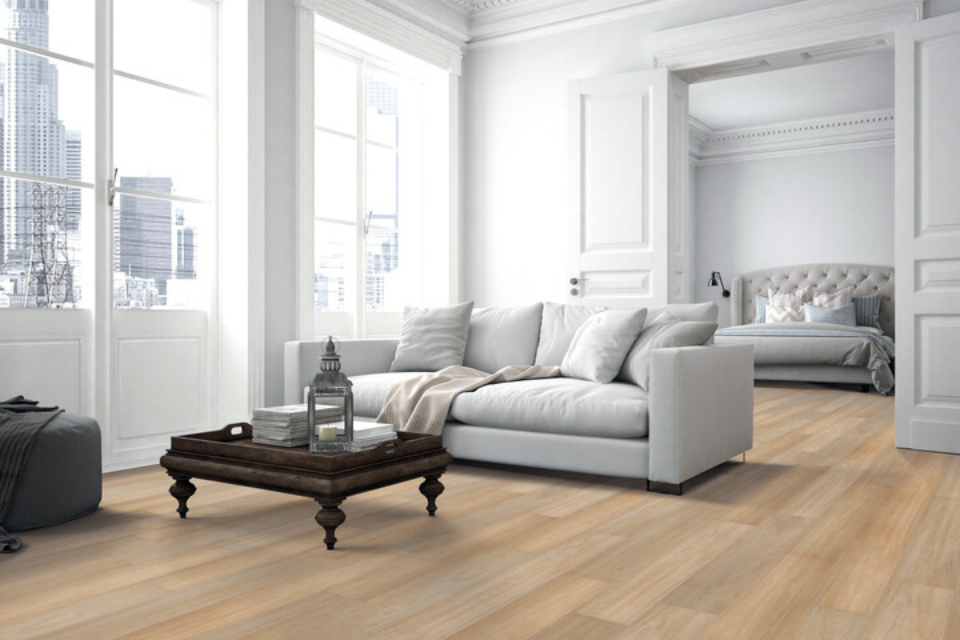 Solid Hardwood Flooring
Solid wood flooring consists of planks made from a single piece of hardwood, such as oak, maple, or cherry. It's a great choice for durability because it can be sanded and refinished multiple times, allowing it to withstand decades of use and maintain its natural beauty. Its solid construction adds to its longevity, making it a durable and classic option for homeowners seeking long-lasting flooring.
Benefits of solid hardwood flooring:
When properly maintained, it can last for generations to come.

It's available in a wide variety of wood species, colours, and finishes.

It's resistant to trapping allegens, dust, or pet dander, which contributes to better indoor air quality.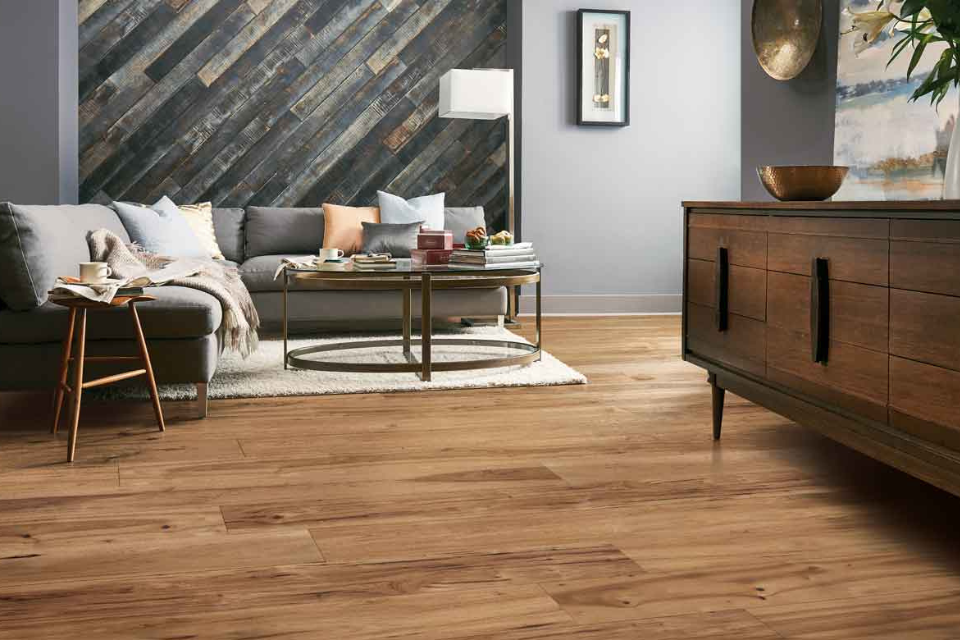 Choosing Durable Carpet Flooring for Your Home
Carpet flooring is often used in living rooms, bedrooms, family rooms, and kids' playrooms because it adds a level of coziness to the interior space. The benefits to installing a carpet are endless from safety to added insulation and acoustic dampening—this is why you often find carpeting in movie theaters because it absorbs sound.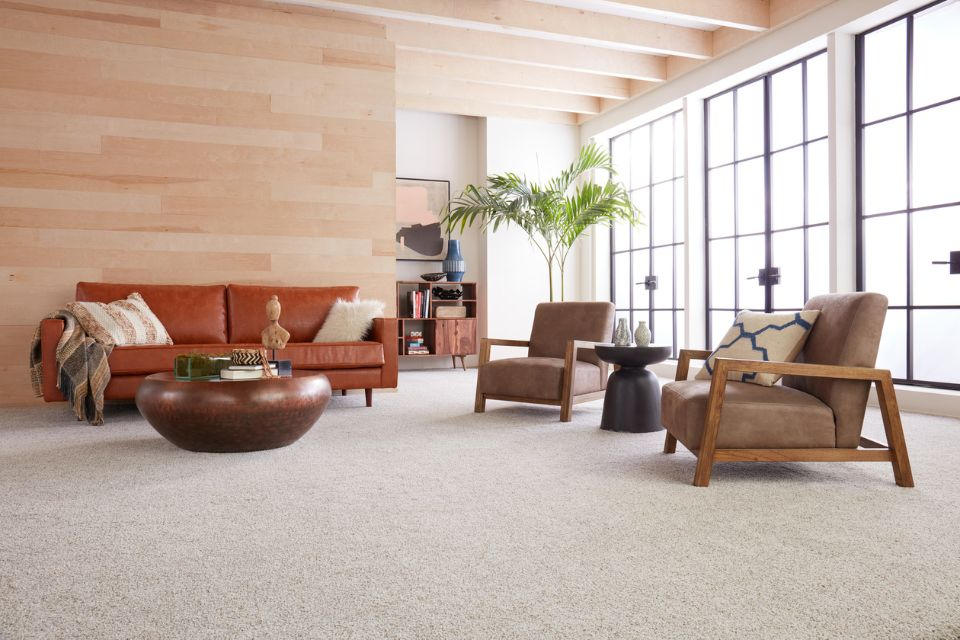 Beige Carpet by Carpet One Floor & Home
Carpet For Family Spaces and High Traffic Areas
When it comes to your living room, carpet is best as this is often where your family spends most of their time so why not add a little comfort? Common misperceptions about carpet for the living room or any high traffic area include that it's difficult to maintain. However, thanks to the latest in carpet technology, carpet is often better at hiding dirt and stains than hardwood.
If you're concerned about the kids spilling their drinks or pets making a mess on the living room floor, the best carpet for high traffic areas is a modern carpet for the living room in various patterns, as this makes it easier to hide any stray crumbs.
Have an active family or pets? Explore durable, synthetic materials and fibers that are versatile and stain-resistant, like:
Do you require a cozy and quiet space? Consider natural wool carpeting which is unmatched in its luxurious feel underfoot.
Choosing Carpet for Bedrooms
Since the living room serves a different purpose than the bedroom, often becoming the hub of family conversations, happy hours, and late-night movie marathons, living room carpeting needs are a little bit different.
Our bedrooms are designed for relaxation and a place to lay our heads at the end of a long day, and the best carpet for bedrooms will create the perfect environment for this. Luxuy carpets for bedrooms make an excellent choice for your sleeping sanctuary.
Because of this, when choosing a bedroom carpet consider:
Finding a carpet with a pleasantly soft pile underfoot.

Looking for plush styles in wool and nylon.

Your bedroom carpet likely won't get as much foot traffic as the living room, so you can splurge and install carpet with higher piles for maximum comfort.
Still not sure which quality carpet type is best for your space? Find out more about each carpet for your home and the different types available for your home here.
Our flooring experts can help you determine which carpet materials and carpet styles work best for your space. Visit our website to find a Carpet One Floor & Home near you and let us guide you to beautifully, durable carpet floors made for the modern challenges of your home today!